What is Biodanza? (Part 1)
So often I was asked, what is Biodanza?
And so often I missed words to explain what Biodanza is despite my 7 years in-depth study and practice of Biodanza System.
And I am not the only one. So many people, who are blessed with Biodanza, struggle to find words to describe.
Why? Simply because the magic of Biodanza is to be experienced but not to be described, because it encompasses the wholeness of human life, because it reaches to the edge of the wordless, going far beyond what can be comprehended by our mental mind and touching deeply the ground of our existence…
On my personal healing and growth journey, I have benefited from many wonderful healing modalities and transformational systems. However, after the past years in-depth study and practicing various healing modalities, for me personally, Biodanza remains the most powerful one which has facilitated ground-breaking changes of my whole being, even it does not to be defined as a therapy or healing modality alone.
So I feel probably the best way to "describe" Biodanza's magic is to share my personal healing and growth journey through Biodanza…
What is most personal is most universal. – Carl Rogers
Life is such a mystery. But before I got to know Biodanza, life was only about striving, learning (knowledge) and performing.
I was born and grown up in China, back in the 70s when the mind-set of "boy is more worthy than girl" still prevailed in the Chinese society. So, my arrival in this world evoked disappointment instead of joy for my grandparents particularly, as my father was the eldest son of the family, and everyone was anticipating he gets a boy to carry on the heritage of family Li. Because of my gender, my mother also experienced difficulties to be accepted fully by the big family of my father. So being not wanted and welcomed as a girl, was a primary wounding from my early childhood. To be accepted and also to "help" my mother to be accepted, I strived to be "good", to gain external recognitions, and to prove that I can be as worthy as a boy, in a highly competitive environment, particularly in regard to the performance in the school and later on in college.
For me this led to so many coping mechanisms having a life constituting mainly mental and intellectual activities, as a great value has been placed on the knowledge and intellect in the family and society to have a "better" life through higher education. "Knowledge is power" was a popular statement in the time when I grew up. My father was highly regarded as knowledgeable and intellectual as a chief engineer and having great passion for history, culture and literature. Surely, I wanted to follow his footprint and to prove that I have a brilliant mind as well "despite" being a girl. I still remember how much I loved singing, dancing and painting when I was in the kindergarten, but later on with the start of school, all these paled and gradually disappeared in front of the striving mode to achieve better scores, more "knowledge" and being the "best".
This was the start of how I got lost and away from life… Later, work became the centre of my life. I began my corporate career, used to work as project manager responsible for global projects. The roles and responsibilities at work had taken a dominant position – how my life was organized was primarily according to the project's needs, then the needs of the family. Very often after the whole day back-to-back meetings, I felt totally exhausted, dislocated, and empty… and didn't move my feet much for the whole day… Life was for me busy schedule, heavy loads, and pressuring deadlines…
"I don't believe people are looking for the meaning of life as much as they are looking for the experience of being alive." – Joseph Campbell
Back to 2015 and early 2016, shortly before I turned 40, a few major events happened in my life: the arrival of my second child, sudden loss of loved ones, conflicts at work… Toward outside, it appeared as if it was a perfect life, but inside, I was totally lost… The midlife crisis hit me, or better as Brene Brown put it in her book The gifts of imperfection: "the midlife unravelling" – Life gave me these gigantic invitations to re-start the self-inquiry: Who am I? What am I here for?
These self-inquiries have been asked before already when I had a near burn-out in 2012, having had panic attack and sleep disorder, I became aware of the urgent need to stop my workaholic behaviour, that I was almost 24/7 available for work projects and always in back-to-back meetings. This "emergency brake" turned to a 5 months' time-out to relax, reflect and re-orient. It helped me greatly to step out from the addictive pattern for a while and gave me the time and space to start my self-discovery journey. First with a coaching education training to become a coach, however, I noticed soon that I needed much more help to be able to help others. The emptiness, purposelessness, inertia I felt in my whole system was not to be quickly "fixed" by the cognitively learned coaching skills and tools. After 5 months I went back to the corporate world, was able to work with reduced hours in a wonderful team, until my second daughter was born in 2015.
Then in 2016, when all the life events happened, I was "knocked-out" again. I restarted my personal self-discovery journey with energy healing workshops and joined the one-year training for personal development and potential unfolding based on non-violent communication (NVC). Both greatly helped me to reconnect with my emotion when I finally was able to cry again after years of no tears… However, deeply in me, I knew I am still so cut off from my body – whenever we had music and dance, I was unable to move, or felt like so uncomfortable to move when someone else is there as well and watching. I felt my body so much not belong to me… Until the day came, when my peer Anna from the NVC-training invited me to join a Biodanza workshop, I asked, what is that? She said, she can hardly explain, but she knows there will be a lot of happiness hormones released when one danced a Biodanza session. I thought, oh, if it will raise my mood and we will do something with the body, why not give it a try? So, I went to this Biodanza workshop in Augsburg, a city 80 km away from Munich where I live.
That's how everything started – in the very first moment, when I heard the consigna (Induction for Biodanza exercises), the music, when I started to move with my unique bodily expression, when my smile and tears came up – I knew instantly, that's the best for me and exactly what I need…A couple of month later, I enrolled in the professional training program for Biodanza teacher.
Then a profound transformational journey started…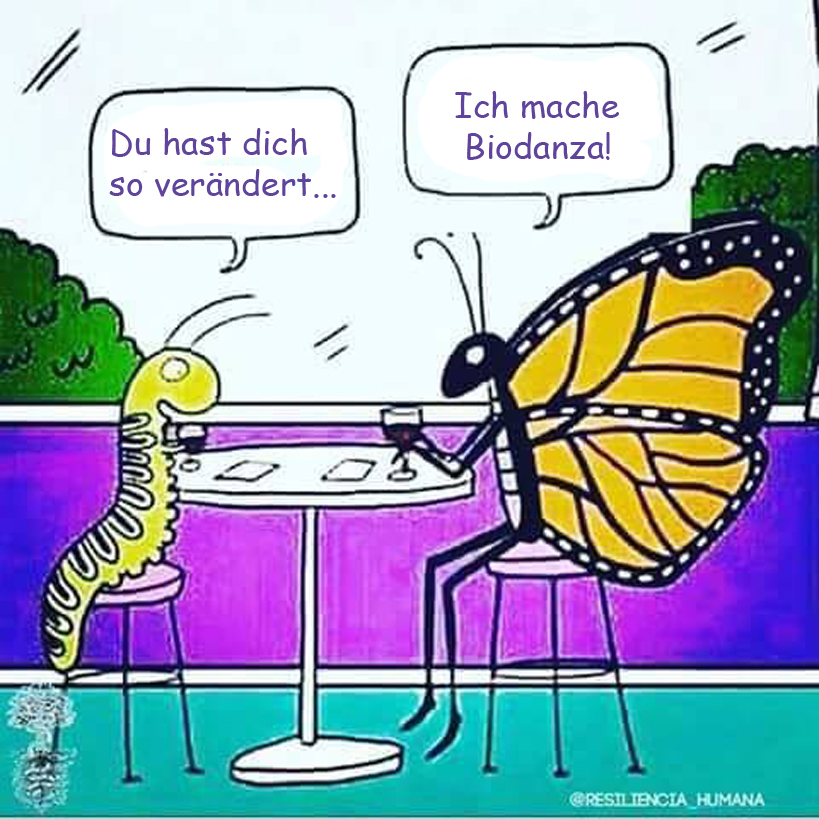 3 years later, my depression was gone, I am fully back to my body, I feel so alive and so much love towards life and the whole humankind. I found again the purpose and the joy of living… Love, life and aliveness, that is what Biodanza means to me and what I started to reinhabit and embody through these years Biodanza practice…
I experienced many expanded state of consciousness, mystic vivencias (Spanish word for "experience", a Biodanza session, intense human experience of being alive here and now), where I felt being an intimate part of the one, felt so much beauty, abundance, joy, pleasure, and love… Ecstasy and Intasy… Love for life, love for the humankind and love for every cosmic creature…
My whole life has changed, it has become worth living and loving for me, and turning to a ground-breaking adventure to be reborn, and creating a life I long to live with my soul's calling and my core essence…
This "non-reversable" transformation is reflected on my existential level: Meantime I left the corporate world where I had worked for more than 20 years, besides my Biodanza training and facilitation practice, I studied the holistic healing science, graduated with an advanced Diploma in Energy Therapy and becoming a therapist and healer. Since one and a half year I have been supporting clients online or offline in my beautiful healing studio "Welcome Home!" in Munich. Last year I also became a Gene Keys Guide, where I accompany people on the self-illumination journey to discover and manifest their higher purpose, unique gifts and true potential.
From the corporate career to a healer and guide, Biodanza has certainly played a crucial role, to guide me back to life, back to love and back to my wholeness, where all the hidden potentials unfold, and my real calling being embraced. A metamorphosis, a transfiguration, a rebirth… These amazing changes in my life and in my cellular memory, are hardly to be described but may be illustrated by the photo of mine and the poetry I wrote: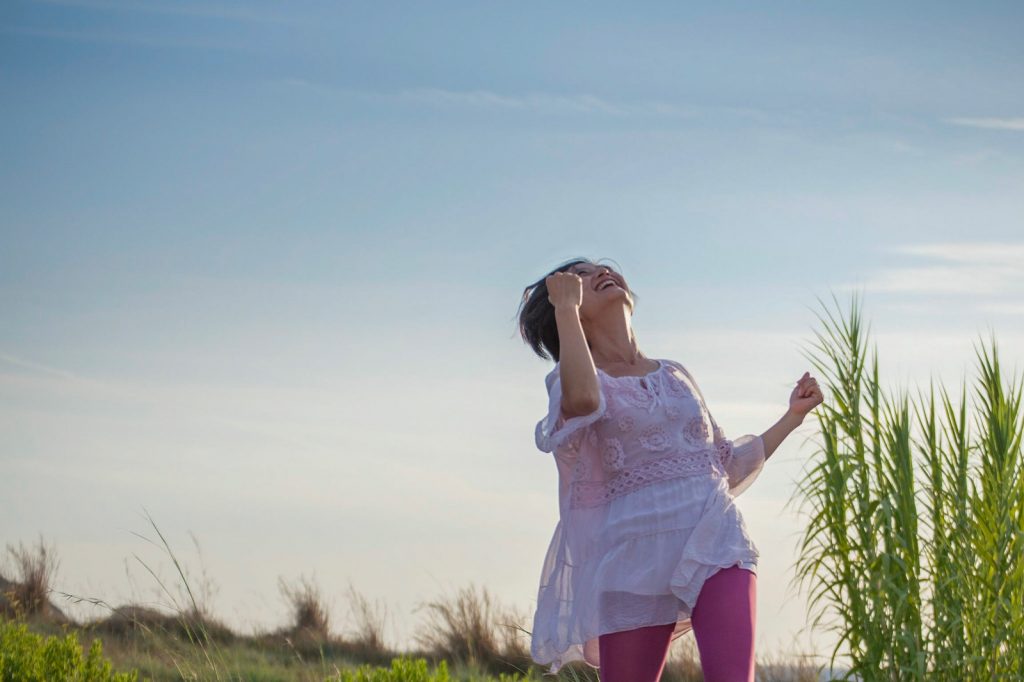 Photo: Katja Steputtat
Rebirth in freedome
Once, I was the panther behind the thousand bars.
Once, I was the frozen within the iceberg.
Once, I was split and broken.
Once, I was lost and dead.
How could this be life?!
Oh wake up, the sleeping ones
Oh get up, the motionless ones
Oh speak up, the voiceless ones
Oh dance up, the mystic eternal beings
A butterfly evolving out of the cocoon
A drop becoming the entire ocean
A spark lighting up the gloomy
The panther, breaking through the bars,
becoming alive, reborn in freedom.
Oh life! We are free!
Free to live, to love, to create, to connect
Oh life! We are free!
Free to let go, to die – the imprints, the fears, the illusions…
Oh life! We are free!
Free to learn, to discover, to embrace the mystery of life
which is YOU.
Certainly, the energy healing and trauma work what I parallelly intensely dealt with has helped me greatly to process the shadows, trauma and wounds which came up and want to be healed during this transformational journey. The more I am digging into the holistic healing systems, the more I realized the wonderful healing power of Biodanza, this human integration system. Again and again, I was so amazed how much innate power, courage and resources have been awakened and (re)-connected through Biodanza practice, how tremendously it helped me to strengthen my resilience and to enhance my self-healing capacity. Also, it is fascinating for me to experience and witness on myself how much previous hidden potentials in me have been naturally unfolded on my personal growth journey back to the wholeness through Biodanza…
To be continued… Meanwhile, let's dance and spread some joy while we are here!
Note 1: this blog in German can be found here on Feeling in Motion (Biodanza München) Blogseite.
Note 2: Scientific researches in Biodanza can be found here