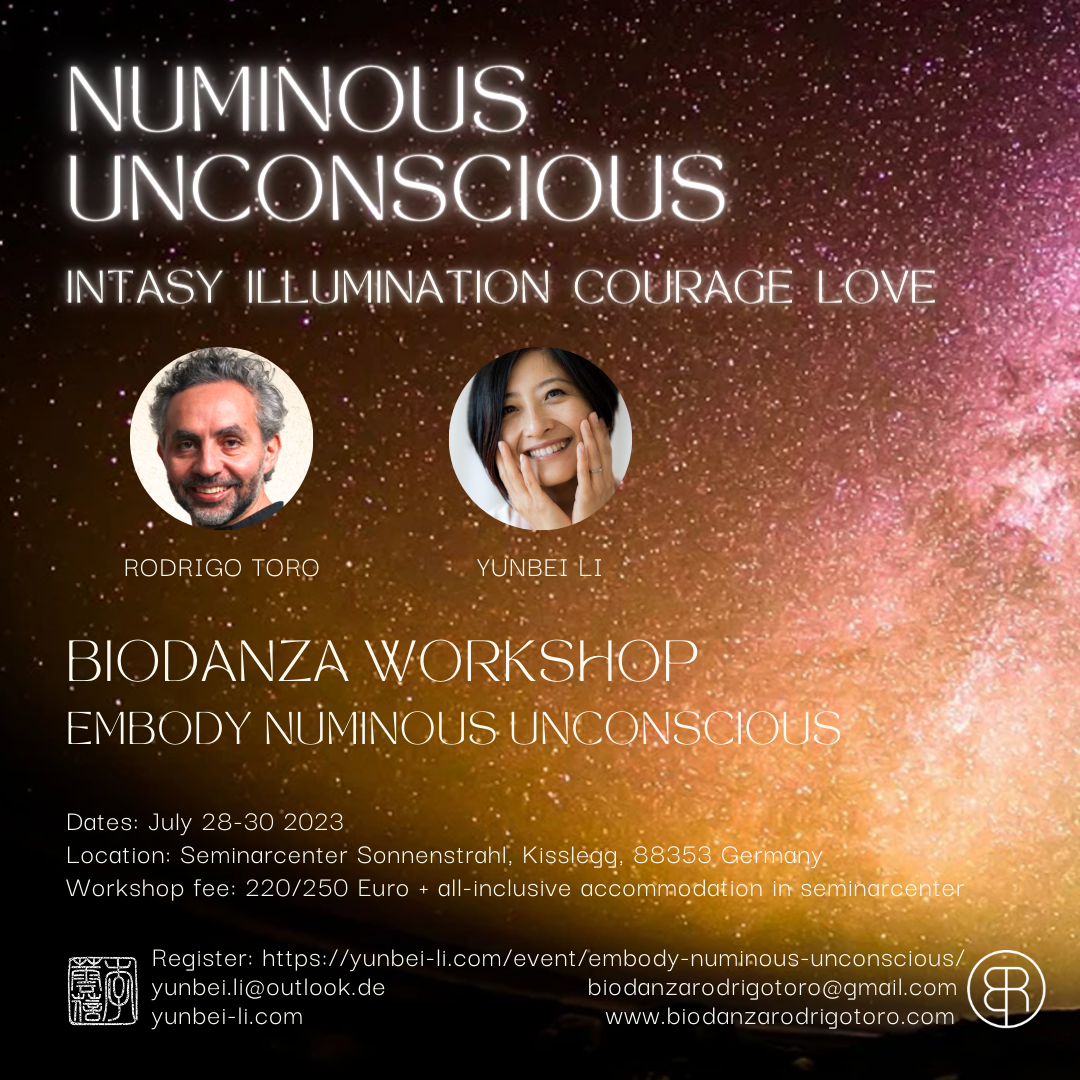 Embody Numinous Unconscious
220€-250€
Biodanza Workshop & Vacation
What is being human? To what extend are we human?
Resonating with these questions, confronting with fatal dissociations of humankind from anthropological perspective, Rolando Toro Araneda, the creator of Biodanza, has dedicated himself in his lifetime to propose anthropological revolution based on embodied inner transformation of every human being, for the social evolution, for the world peace.
Driven by this noble intention, moved by a kind of "will of the light to illuminate the persistent darkness", Rolando developed Biodanza, a most powerful accelerator for human integration and evolution towards a "Superhuman", who embraces and embodies the cosmic dimension of "being human" as expression of life, of life's greatness and sacredness.
In Rolando's words: "I'm sure in each man and each woman there is a seed of infinite greatness… This greatness, this numinous energy, belongs to the human nature, lies in the deepest part of our identity, it's the primordial human condition…It's the infinite human being who expresses Love, Illumination, Courage and Intasy". These are the expressions of the divinity of human being, of what is really worthy to be called human: the potentials Rolando says "that make the human being positively evolve, that favours the development of the healthy part of human being, that is, the greatness, the capability of affective bond with oneself, with the other and with the universe".
Love: "The intrinsic necessity of the human being to love and to be loved… It is necessary to love and to receive love, to give tenderness, to consider the other as a part of oneself, to act with empathy, to cultivate friendship, that is, the structured affective continent…"
Courage: Courage to live, courage to love, courage to act with heart, courage to challenges our fears… "The ability and capacity to enter into chaos, connecting with the attractor (love), get out from it and bloom in the desert…"
Illumination: "Illumination is seeing others and being able to see them, with light, in their shadows…" "I believe that the enlightened one is the human being who can see the soul of the other, as if he possessed a lantern that would allow him to illuminate the shadow of the other, dissolving his sense of guilt, resentment, sense of competition, cruelty, discovering his essence, revealing his desire to live and to be happy."
Intasy: Inner ecstasy, happiness of living, supreme sensation of cosmic greatness within, complete acceptance of oneself, of inner grandiosity and uniqueness, communion with oneself, the other and with something greater…
These four make the primary expressions of the Numinous Unconscious, what Rolando introduced in the last years of his life as the deepest and most repressed layer of Human Unconscious.
In this workshop, we are going to encounter, liberate, embrace, and embody the Numinous Unconscious, through further conceptual exploration and powerful transformative Biodanza vivencias (experiential learning sessions).
I am humbled and honoured to co-create this workshop with Rodrigo Toro, who carries on the artistic and intellectual legacy of his father Rolando Toro, the creator of Biodanza, in the original way. His classes are incredibly deep, delicate and powerful.
Interested, curious, ready? Vamos hacer la vivencia! Let's expierence it!
This workshop is suitable for everyone, regardless of age, physical fitness, cultural origin, dance or life experience. It takes place in "Sonnenstrahl" in Kisslegg (link below), a wonderful seminar center in the beautiful nature of German Allgaeu. Seats are limited. Please feel free to get in touch for more information.
Looking forward to welcoming you on this evolutionary journey, embracing Human Greatness, celebrating being Human!
Date: Fr. 28.07.23 – So. 30.07.23, Start: Friday 5pm, End: Sunday 5pm
Fee: Registration by 30.04.23: 220€, thereafter 250€, plus all-inclusive accommodation in seminar center
Registration end: 22.07.2023
Seminar center Sonnenstrahl, Sebastian-Kneipp-Straße 1 · 88353 Kißlegg
Please book your accommodation directly via seminar center timely as it would be a full house at the time.
Please indicate your participation with "Biodanza Original" while booking your stay.
Booking contact: Seminar center Sonnenstrahl
Tel. +49 75 63 18 90 Fax: +49 75 63 18 91 00
Email: info@hotel-sonnenstrahl.de
Terms & Conditions
Workshop Fee: Registration by 30.04.23: 220€, thereafter 250€, this fee does not include accommodation & meals in seminar center.
The workshop fee is to be transferred by 30.06.23 to the bank account below:
Yunbei Li
Bank N26
IBAN: DE14 1001 1001 2624 0430 77
BIC: NTSBDEB1XXX
Workshop language: German, Spanish and/or English as needed
Cancellation terms:
All cancellations need to be submitted in written
Cancellation by 30.05.23: no cancellation fee
Cancellation by 30.06.23: 50€ will be charged as an administration fee
Cancellation after 30.06.23: No cost when replacement available, otherwise 80% of the total workshop fee needs to be balanced.
Liability:
Every participant in this Biodanza Workshop is fully responsible for his and her own safety and actions within and outside the group. Biodanza workshop teachers disclaim all responsibility for any liability, loss or risk, personal or otherwise, that is incurred as a consequence, directly or indirectly, of participation of this workshop.